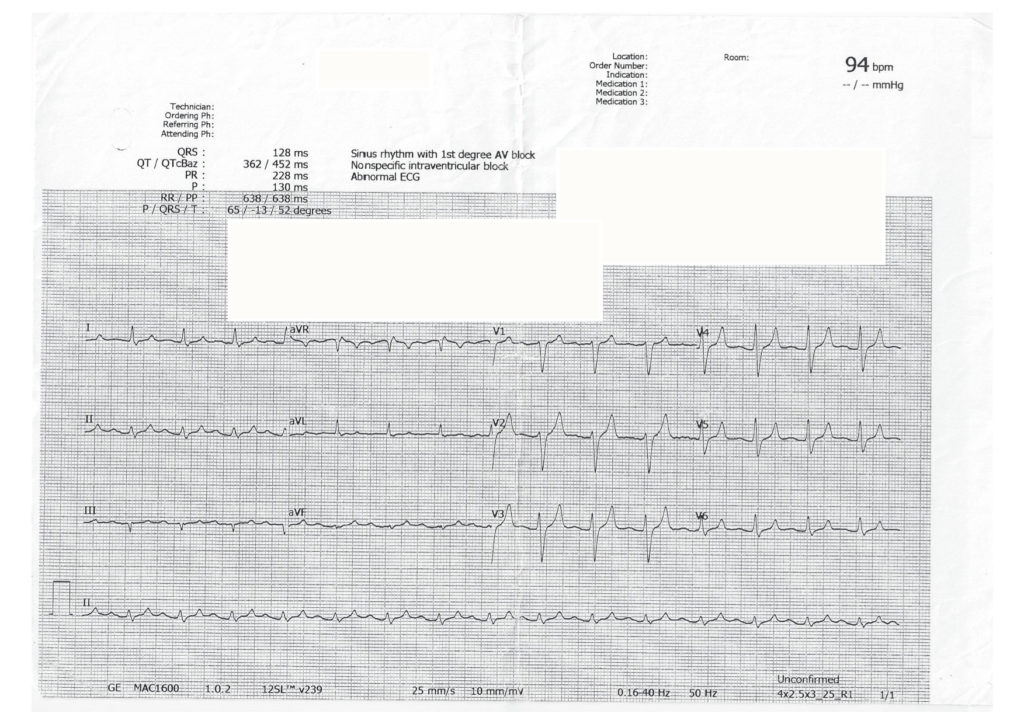 Key Features
Sinus Rhythm
Wide QRS
Peaked T waves
Flattened p waves
Interpretation = Hyperkalaemia
… 20 minutes post calcium gluconate:
QRS narrows
T waves decrease in amplitude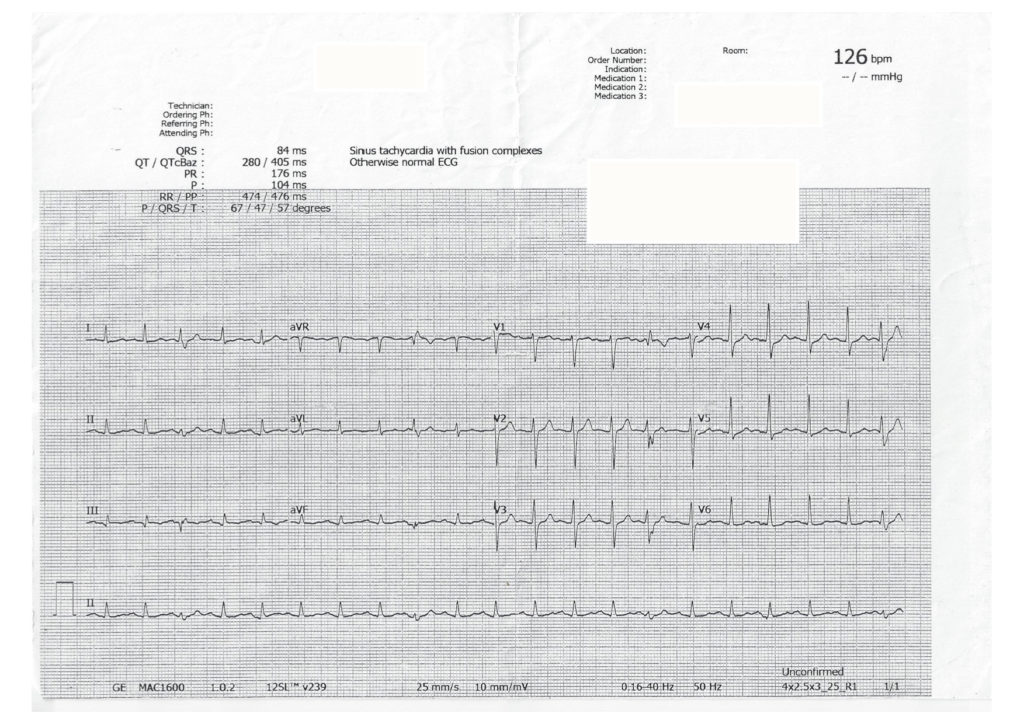 40 year old lady found unconscious in bed. Seen completely well 2 hours earlier by husband.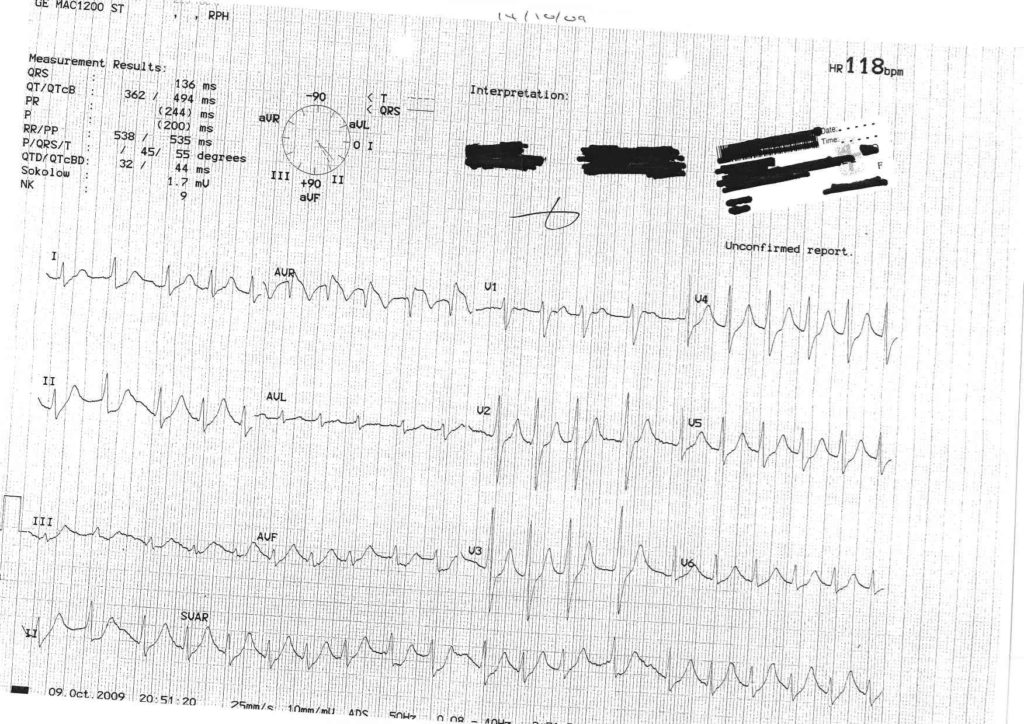 Key Features
Irregular tachycardia ?AF
Wide complex
Prominent terminal R wave in aVR (Right axis deviation of the terminal QRS)
Interpretation
Given history of sudden deterioration in consciousness from well state and these ECG findings – Sodium Channel Blockade from overdose
Sodium Channel Blocking Drugs include:
TCA's (tricyclic antidepressants): Amitriptyline, Desimipramine, Dothiepin, Imipramine, Nortripytline
Class 1A anti-arrhythmics: Disopyramide, Procainamide, Quinidine
Class 1C anti-arrhythmics: Flecanide
Local Anaesthetics: Bupivacaine, Cocaine, Ropivacaine
Antimalarials: Hydroxychloroquine/Chloroquine, Quinine
Other: Phenothiazines (Thioridazine), Amantadine, Carbamazepine, Chloroquine, Diltiazem, Diphenhydramine, Propoxyphene/Dextropropoxyphene, Propanolol
Source: Toxicology Handbook, 3rd edition, Murray et al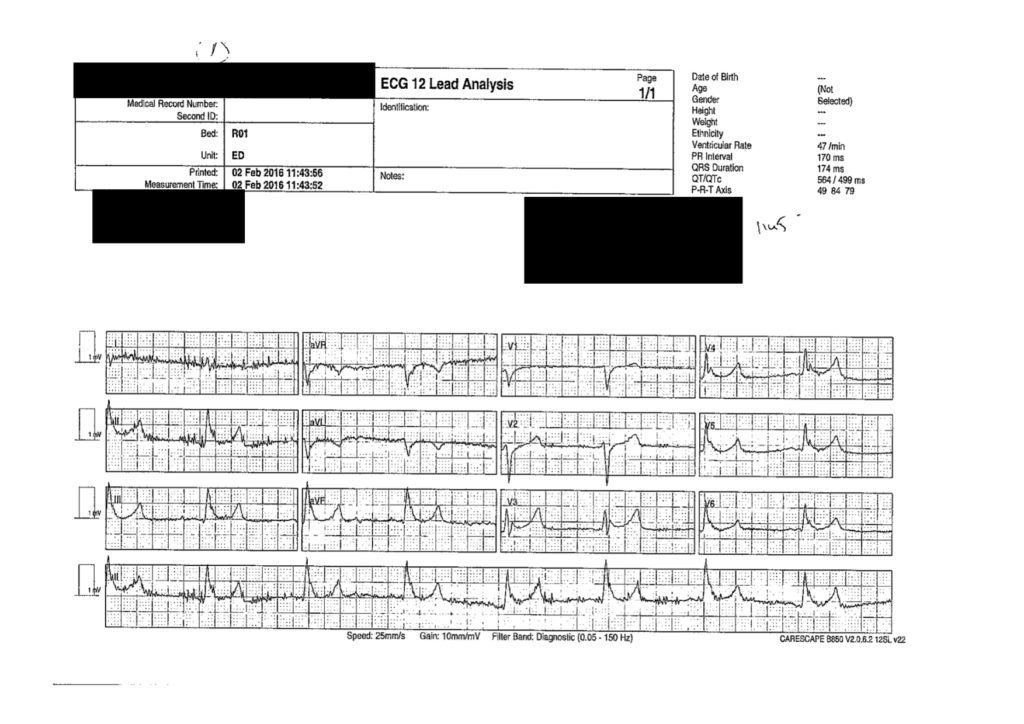 Key Features
Regular bradycardia
Wide complex
Baseline artefact (shivering)
Osborne J waves (prominent notching at end of QRS)
Further history
80y.o lady fell over on way back to toilet in middle of night. Unable to get up and found on floor after 24hrs.
Interpretation
Hypothermia
…. After rewarming 2 degrees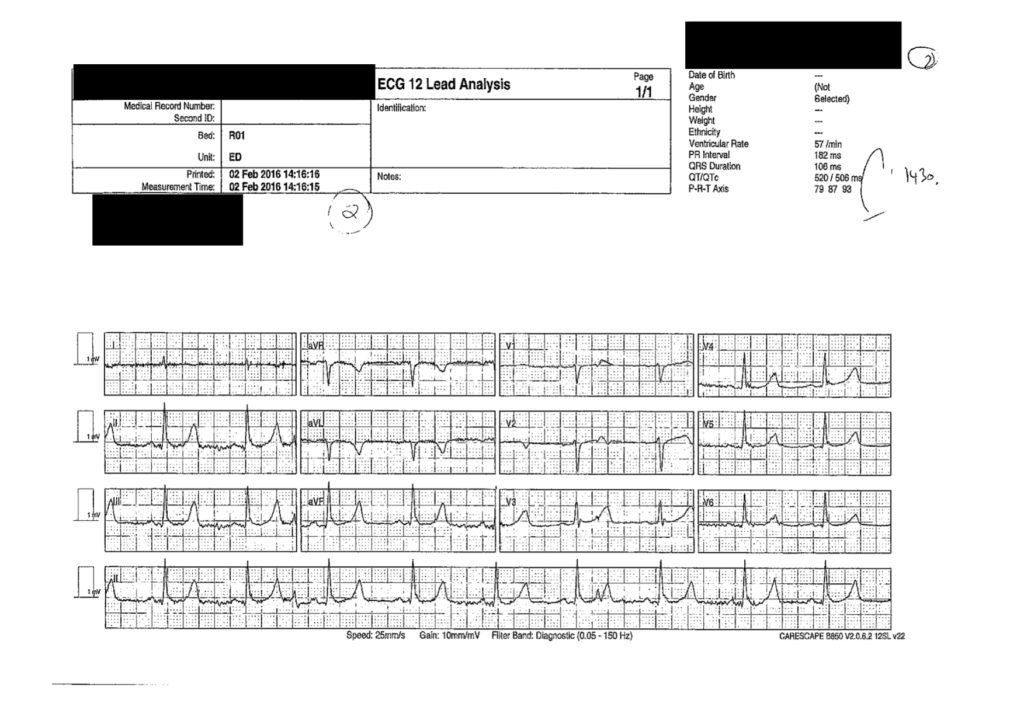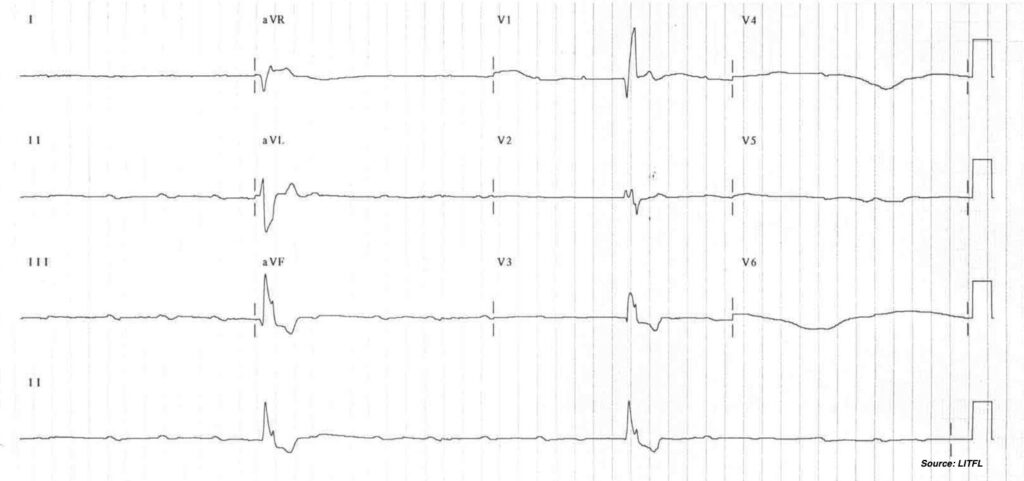 Key Features
Very slow rate
Wide
and…
ECG 4(a)

Near total absence of atrial activity

ECG (b)

Regular atrial activity without relationship to ventricular activity
Interpretation = Ventricular Escape Rhythms
4(a) Due to sinus arrest
4(b) Due to complete heart block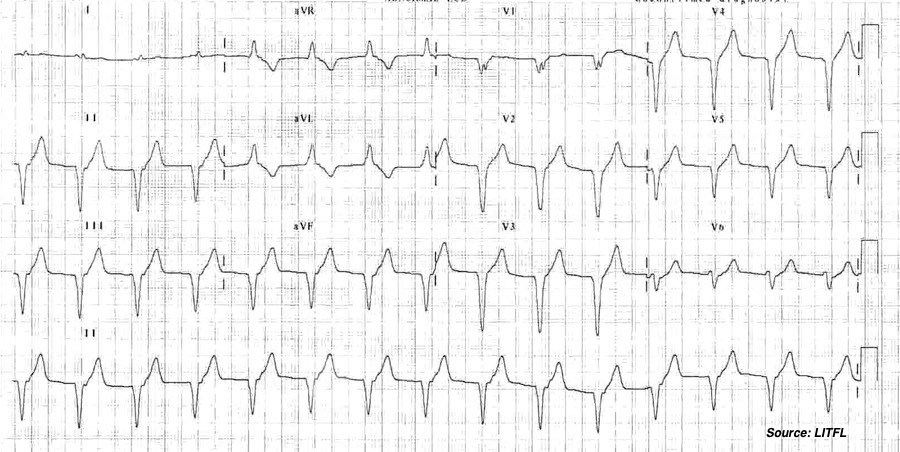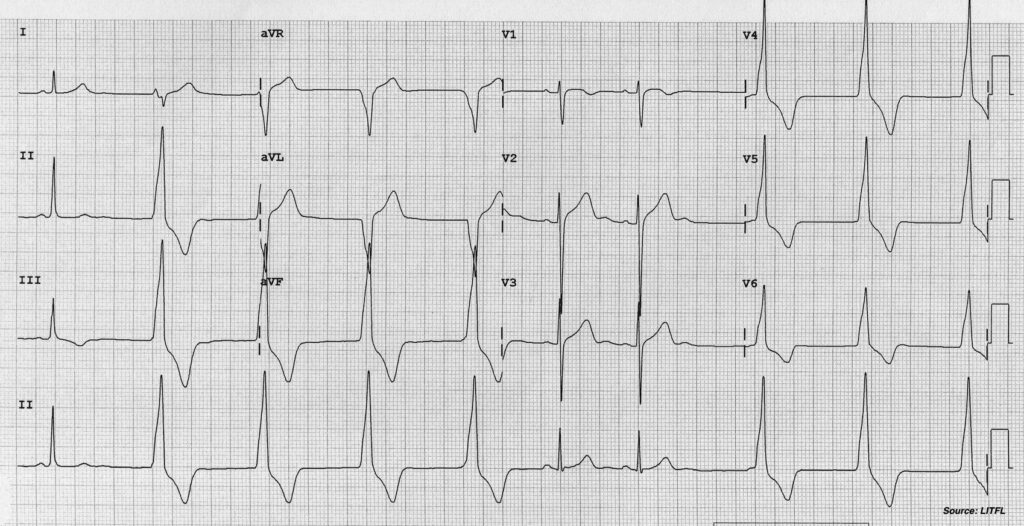 Key Features
Wide regular rhythms

Unusually "normal" rate

Faster than usual ventricular escape rhythms
Slower than VT

Nil other features to suggest a Tox/Metabolic cause
Interpretation – Accelerated IdioVentricular Rhythm (AIVR) due to
5(a) MI post reperfusion
5(b) Athlete's heart (sinus beats with intermittent AIVR)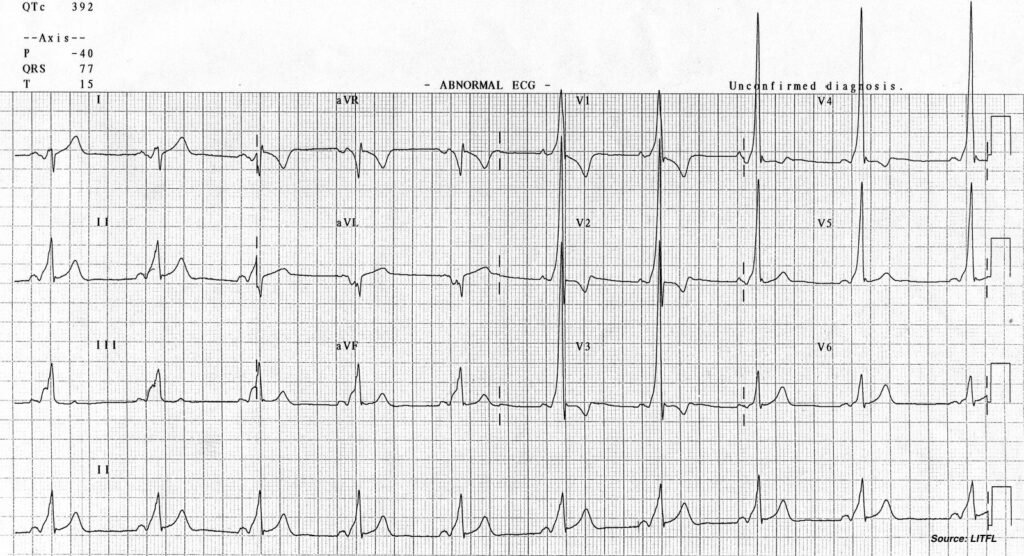 Key features
Wide QRS
Short PR
Delta waves
Interpretation: Accessory Pathway – Wolf Parkinson White (WPW)
Key causes of a Wide QRS
Bundle Branch Block
Accessory Pathway
Ventricular rhythm

Ventricular escape rhythm
AIVR – Accelerated Idioventricular Rhythm
Ventricular tachycardia

Toxicology/Metabolic (Cellular poisoning

Hyperkalaemia
Sodium Channel Blockade
Hypothermia
Key Diagnostic Clues
History:

Toxicological cause? Hypothermia? Reasons for hyperkalaemia?

ECG findings

Heart rate:

Slow – think ventricular escape rhythms; think hypothermia if history/temp supports
Very fast – think VT

QRS Morphology

Features/appearance of RBBB or LBBB?

Other ECG abnormalities

Peaked T waves, Short PR/delta waves, Osborne J waves, Terminal R wave in aVR